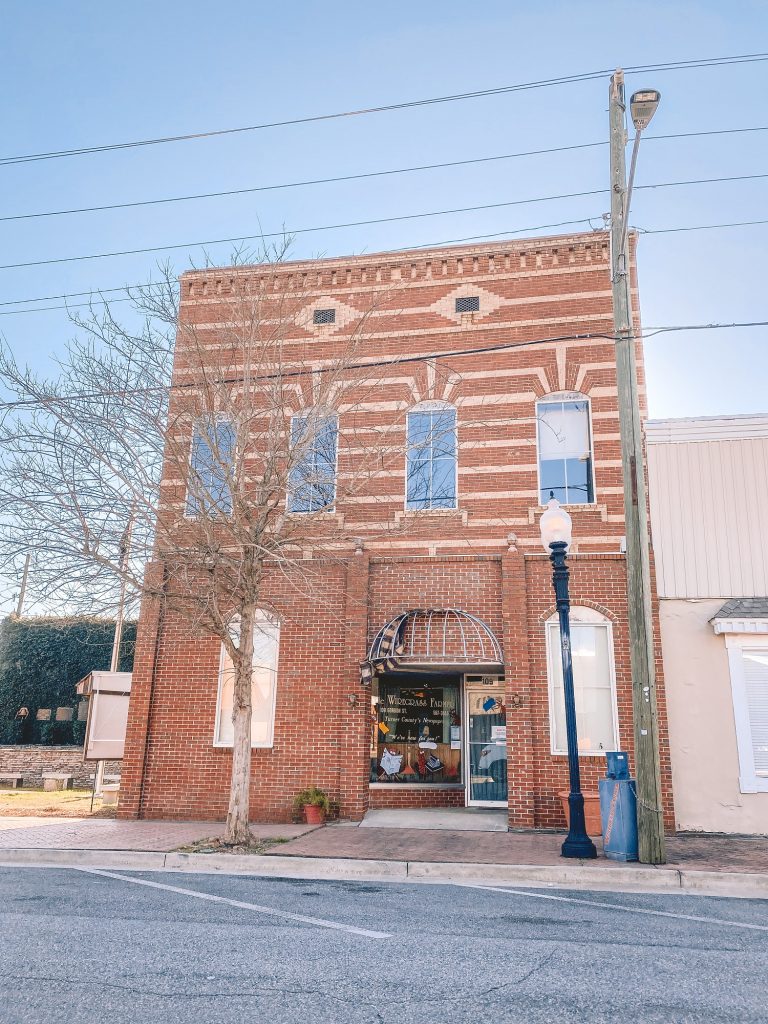 Location: 109 N Gordon St., Ashburn, GA
Date: March 6, 2021
National Register of Historic Places #: 92001042, Ashburn Commercial Historic District
The Wiregrass Farmer building was designed by Peter E. Dennis of the Dennis & Dennis firm of Macon, Georgia in 1903. It was constructed on the instructions of town pioneer and Ashburn entrepreneur John Samuel Betts (July 29, 1848 – April 25, 1918). Although the original use of the building was for governmental purposes, particularly the open second floor used as a court until the Turner County Courthouse's construction in 1907, the main use for the past 100+ years has been for the legal organ and the local newspaper for the county, The Wiregrass Farmer.
The Wiregrass Farmer was established by a pioneer of Ashburn, Joe Lawrence (September 5, 1858 – August 26, 1939). At the time, the name was The Wiregrass Farmer and Stockman. There are disputed claims on when it was first established depending on who you ask or what you read. For our purposes, although the first papers that are saved on record are from 1900, the newspaper itself refers to an earlier date stating it was founded in 1898-1899. In an article celebrating a milestone birthday of Joe Lawrence, the September 2, 1937 edition of The Wiregrass Farmer and Stockman said this: "Mr. Lawrence founded the Wiregrass Farmer and Stockman about 39 years ago and dedicated it to the agricultural interests of Turner County and South Georgia." Despite the different founding date claims, what is undisputed is the value that The Wiregrass Farmer has been and continues to be for Ashburn and all of Turner County. Whether reporting general news, society events, or the coming and goings of the locals, the paper has become a beacon for our population.
In 1913, The Wiregrass Farmer and Stockman combined with the other local paper, The Turner County Banner (1905-1912) and announced it in the January 13, 1913 edition:
With this issue of the Wiregrass Farmer is combined with the Turner County Banner and in future both papers will be published under one head and as successors to each other. It has been thoroughly and practically demonstrated that this is no two paper town… But we have all cut our wisdom teeth since then and have got away from such childishness. It speaks well for the intelligence, common sense and bigheartedness of our citizens that we have now got all such foolishness under our feet, and that in a measure at least, we are all working for each others good…
Eventually, Frank M. Tison, Sr. (February 4, 1881 – November 1, 1951) became co-owner with Joe Lawrence in the newspaper and stepped in as business manager.
---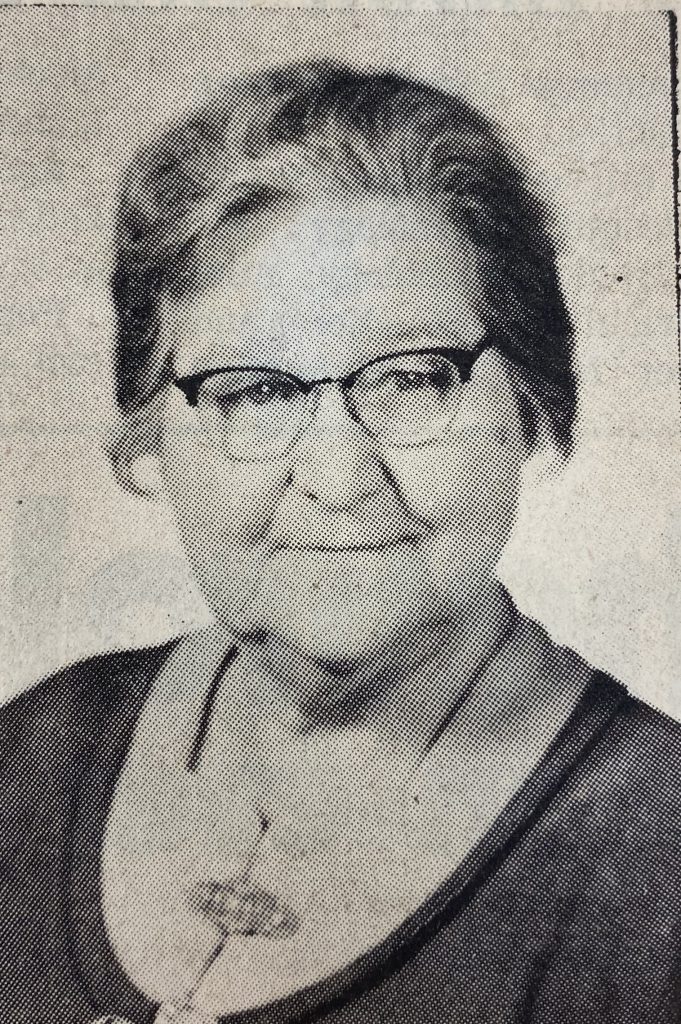 As time goes on, so did the newspaper and the second generation stepped up to the home plate. Upon the death of Joe Lawrence in 1939, Mrs. Nora Lawrence Smith became editor and publisher with Frank M. Tison, Jr. (October 16, 1914 – May 29, 1979) joining in 1940 as a linotype operator and eventually moving into his father's same role as business manager from 1951-1969. Miss Nora, as she was affectionately known throughout the county, was a tornado wrapped in a pretty bow; tenacious, steadfast in her beliefs, and an avid talker. The stories say that she used to randomly dial a number on the telephone, if she didn't know who it was she would immediately ask to know who she was speaking with and say, "Well you were not who I meant to call but while I got you on the phone…" Sun up to sun down, she could be found chatting with someone on the phone and she was beloved by many. In May 1968, Miss Nora became the third recipient of the National Newspaper Associations Emma C. McKinney Memorial Award for "her distinguished contributions in community journalism and civic leadership and in continuous vigorous support of good government in her native state of Georgia." On June 6, 1968, Georgia Governor Lester Maddox named that day "Nora Lawrence Smith" day.
In 1969, the paper was sold by Miss Nora to Publisher Grover Patten.
"I love the work," she wrote in her farewell editorial column in 1969. "When I was 13 years old I crawled up on a stool and learned to set type by hand and have been working ever since, leaving only to go to school and college… I came to Ashburn when I was four years old, nothing was here, only a wilderness. So I have watched the town grow and love it."
Unfortunately, Miss Nora Lawrence Smith died a few years later but in her obituary published in The Wiregrass Farmer, it said this: "Surviving is The Wiregrass Farmer." Such a succinct and loving tribute to a woman who treated her family legacy as a dearly loved child. Posthumously, she was inducted into the Georgia Newspaper Hall of Fame.
In October 1984, the newspaper renamed itself to what it is known currently as: The Wiregrass Farmer. It is still currently released weekly on Wednesdays.
---
Some prominent names associated with The Wiregrass Farmer and Stockman: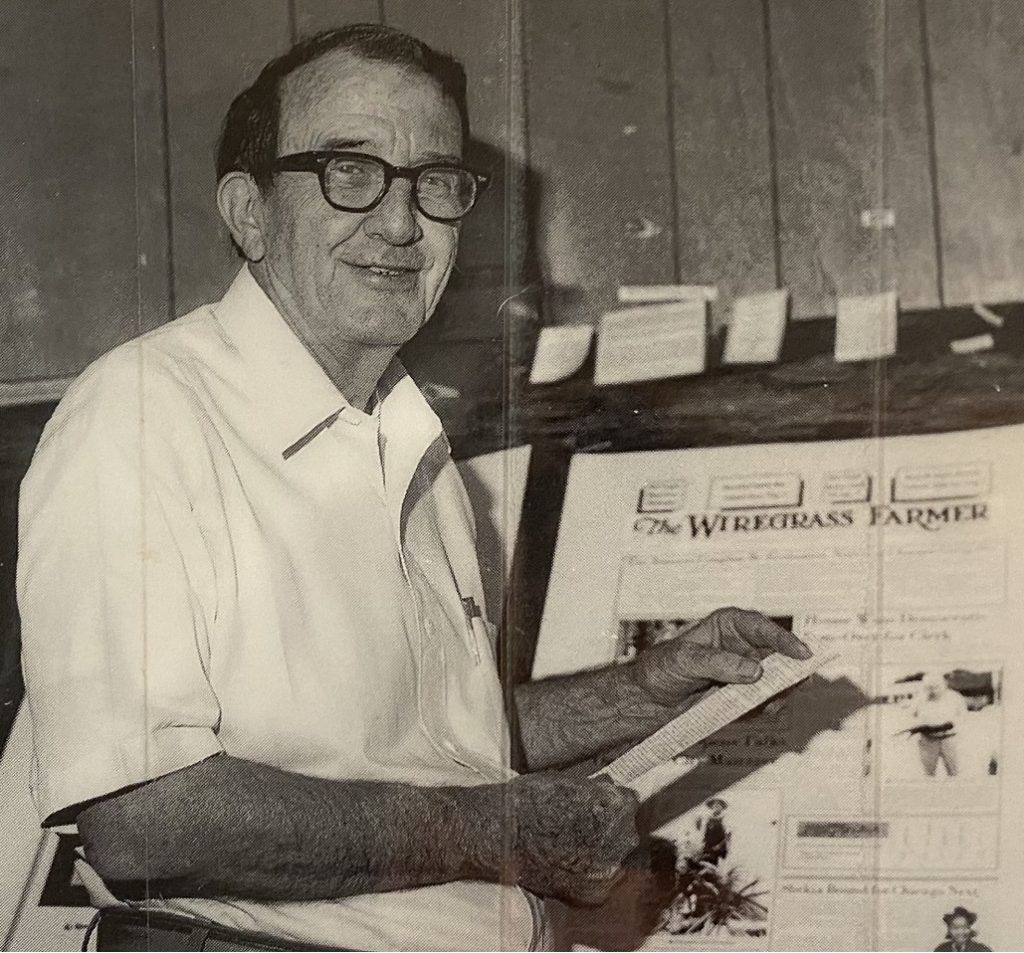 Joe Lawrence (September 5, 1858 – August 26, 1939), founder and editor
Nora Lawrence Smith (December 25, 1885 – July 17, 1971), editor at large 1939-1969
F.M. Tison Sr. (February 4, 1881 – November 1, 1951), business manager
F.M. Tison Jr. (October 16, 1914 – May 1979), business manager
Joe Perry Tison (May 19, 1921 – December 30, 2014), printer
Austin Saxon joined the WGF staff in 1950, became the Managing Editor in 1969, and eventually in 1982 became editor and publisher until 1994.

From Austin Saxon's obituary in The Wiregrass Farmer in 2001: "He's walked the last mile and now he can sleep. Austin Saxon, longtime editor of the Wiregrass Farmer and one of Turner County's most outstanding citizens died Sunday evening. Saxon's column "Miles to Go Before I Sleep," had crossed into four decades. The column earned him countless accolades and a few hard looks over the many years he penned it.

Dave Taylor, editor 1994
Ben Baker, current editor, (1994-current)
---
Current Conditions of the 2nd floor of the Wiregrass Farmer Building
In the past, the weekly editions were actually printed in-house on the printing press that is still located on the upper floor as of March 2021. But access to the upper floor is not permitted to the public due to the damage to the stairs and the general water damage to the upper floor.
The Turner County Project got a chance to document the current conditions and sift through the paperwork that has been left behind from time gone by. There are tons of newspapers from the years past, blank papers, clip art and photo blocks, and just so much miscellany that has to do with producing a paper.
There are plans to clean out the upper floor in the next few months.