On March 24, 2021, Linda Wiggins Williford, daughter of Henry Richard "H.R." Wiggins (May 10, 1924 – October 14, 2010) and Frankie Ireland Wiggins (November 7, 1923 – September 5, 2018), sat down for an hour-long interview with the Turner County Project. As a lifelong Turner County resident, Linda has been involved in many prominent Turner County businesses. She offers an inside view into The Wiregrass Farmer, her family business the Turner County Stockyards that is still in operation today under a Wiggins family member, or just fondly remembering her mom and dad, two beloved citizens of Turner County.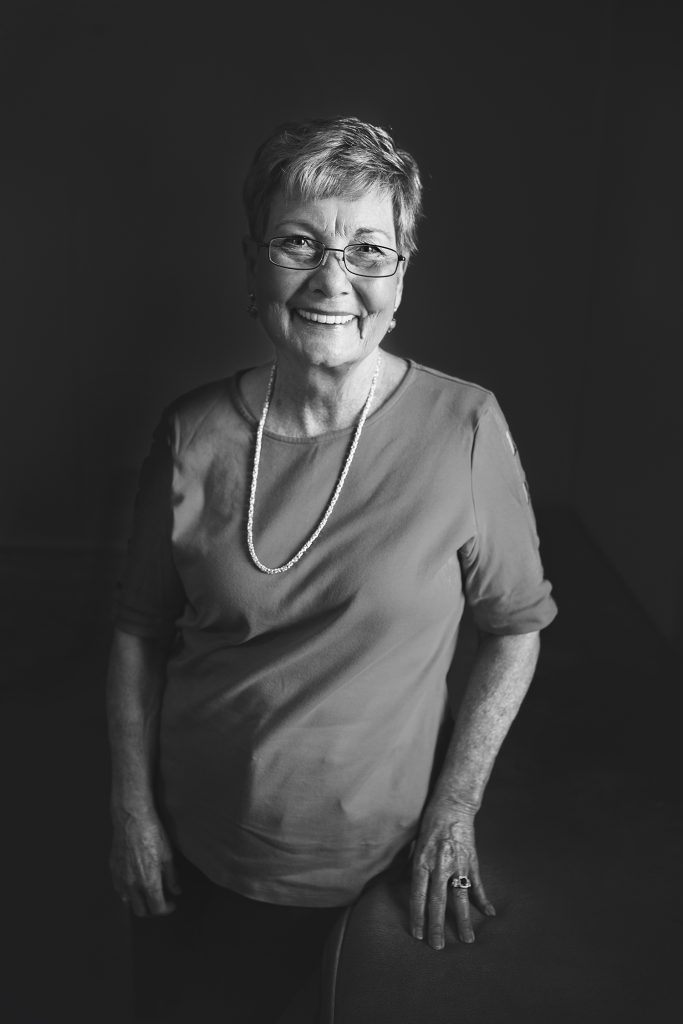 Some of this interview has been edited for clarity.
---
To hear this segment on the Wiregrass Farmer, click over to the TCP archive here!
TC Project: Do you remember what year you started working at the Wiregrass?
Linda: I only worked there two summers… in 1964 & 1965. 
TC Project: What did you work on?
Linda: I did everything but set-typing; that kind of thing. I wrote weddings. I laid out ads. …
TC Project: So did you actually work the printing press yourself?
Linda: No. Jere Jordan worked the printing press. And F.M. Tison [Jr.] worked the linotype machine. But it was a hot type. He set all the type except for some of the ad type and some of the headlines; some of the big headlines and ad type were set by hand. Some of it was old wooden type and there is no telling how old it was… Most of what I did was society stuff. The news back then was so-and-so visited so-and-so. People called this info in. There were a couple of ladies out in the county that called each week; like a lady in the Amboy community, she would call; the Rebecca community, she would call and tell us so-and-so visited Cordele. So-and-so visited their relative or whatever. That was news! That is mainly what I was in charge of on the paper. But Mrs. Nora always had a weather report listed on the front page. 
TC Project: What was your favorite part about working at the Wiregrass? Mrs. Nora Lawrence? 
Linda: I enjoyed the experience. I was in "J" [journalism] school at the time and so the experience that I got as far as writing was good. But Mrs. Nora was such a character. And of course, Austin [Saxon] was there too and I had known him forever. He started in the 1950s until 1994. He was so good and no one could ever figure out why he stayed here.
To read more on The Wiregrass Farmer, check out this post!
Turner County Stockyards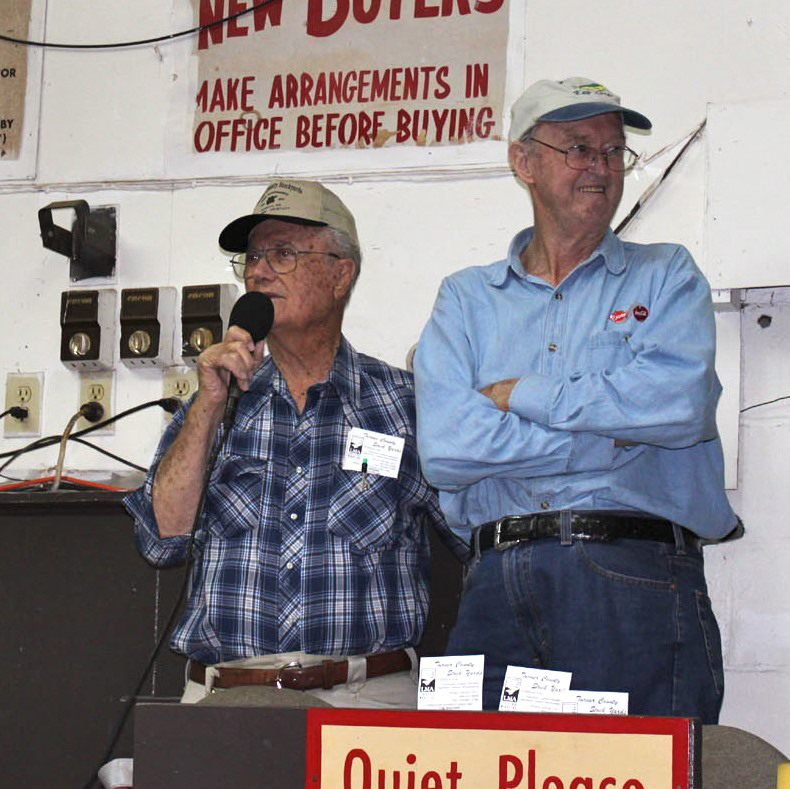 Linda: We moved to town so that daddy [H.R. Wiggins] could have a telephone. For his business. He was already in the cattle business buying and selling and the telephone company wasn't interested in running the line out that way.
TC Project: Where did y'all live before?
Linda: Out on Ireland Road where the Wiggins farm is. 
TC Project: When did your dad get into the stockyard business? Did he open it or buy it?
Linda: No he leased it the first year and then he bought it in 1960… Well, it was not successful until he took it over. It opened in the 40s, Arthur Ray Denham and Herbert Gorday opened it but they weren't really successful. Martha Shingler bought it from them and daddy leased it from her and then he bought it from her… She was a good friend, she and Clark, were both good friends of our family… He took it over then and of course, it became one of the biggest in the state…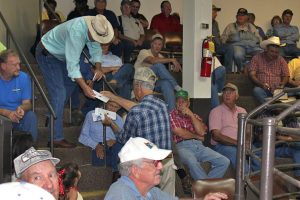 They built a market all the way into North Florida; even from North Georgia, East Alabama, it was just amazing but Daddy [H.R. Wiggins] had a reputation of being honest and serving his customers well. And that actually is what made that business… He traveled all over South Georgia and he knew every customer and knew where they lived… Now Allen [Wiggins] has done a good job with the business. I don't think we could have anyone better. He worked with it from the time he was in school, high school, and whatnot, he bought it, and he will keep it until he decides otherwise.
TC Project: Did you ever help out there? [at the stockyards]
Linda: On special sales.
TC Project: What was your job?
Linda: I cut checks. I would do the checks. 
TC Project: What did your mama do [Frankie Wiggins]?
Linda: She bossed everybody. She really did a little bit of everything. She made sure everything moved smoothly during a sale. But she expected you to do your job and expected you to know what to do.
TC Project: Tell me some memories about Mrs. Frankie?
Linda: She could look at a dress in a store and come home and draw the pattern on a newspaper and cut it out and make it. She made clothes from the time I could remember through high school. Mom made everything that we wore just about. There was very little that Carline [Linda's sister] and I had that was store-bought I guess until I was in college. She worked from the time Dale was 6 until I was in college and it may have been after that. She worked at Manhattan Shirt Co. I would have been 13 or 14 at that point. She did seamstress work. The building is located on what used to be Industrial [Drive] … She loved sewing. She loved cooking. You never went in [her home] that she did not have enough food for you at a meal. I don't care what day of the week it was or what meal it was, if you went in, she had enough for everybody that was there.
TC Project: What was your favorite meal that she made?
Linda: Fried pork chops. She fried the best pork chops. When I cooked, a meal to me was a meat and two vegetables. Maybe some bread, maybe not. But for Mama– that was the beginning. She was going to have two or three vegetables. She was going to have some kind of desert, a lot of times some kind of congealed salad. For years, you never walked into her house that there wasn't a pound cake sitting on the counter. And you could count on her to always have sweet, sweet tea in the fridge. Did you hear the story about the day she and daddy got married?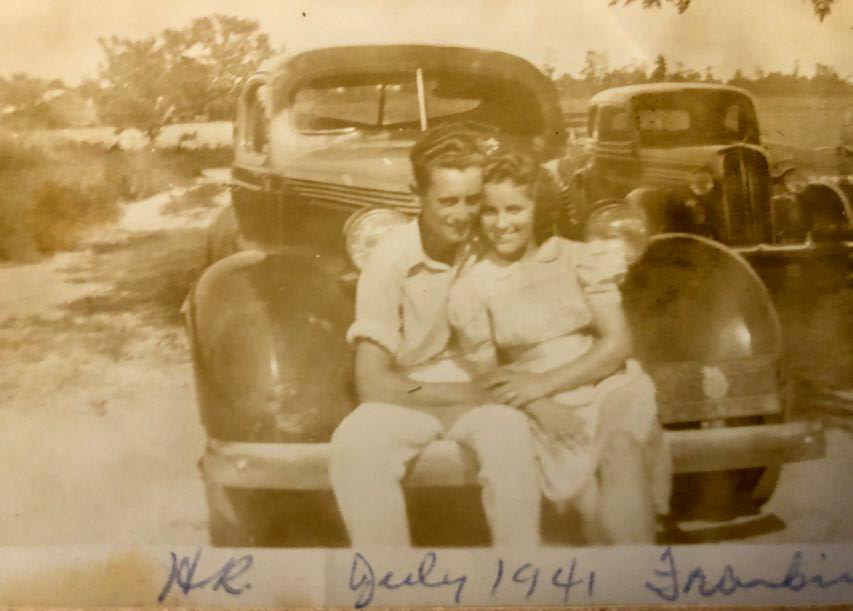 TC Project: No! Tell me- I would love to know it.
Linda: Daddy borrowed $5.00 from Mr. Hobbs. Nobody wanted them to get married but they didn't listen. They started to walk into town. Grasshopper Adams came along and offered them a ride and he brought them to the Justice of the Peace and they got married. They paid the Justice $3.00 and paid Grasshopper the rest of the money to take them back home. They started life with absolutely nothing. They had no place to stay. They had no money. Nothing. And of course, the community brought bedding, cookware, everything. There was a little tiny, tiny house that sat off Ireland Road there close to where my grandmother lived. They lived in that for a little while and then they moved to a house back behind the pond. They started with absolutely nothing. Mama was 17, Daddy was 16. 
TC Project: Did they finish school? 
Linda: Mama was finished. She graduated from Ashburn High. Daddy did not go past the 8th grade. He had to work on the farm. After they got married, he would ride a bicycle to Ashburn on Saturday to work at a grocery store from Ireland Road. [4-5 miles]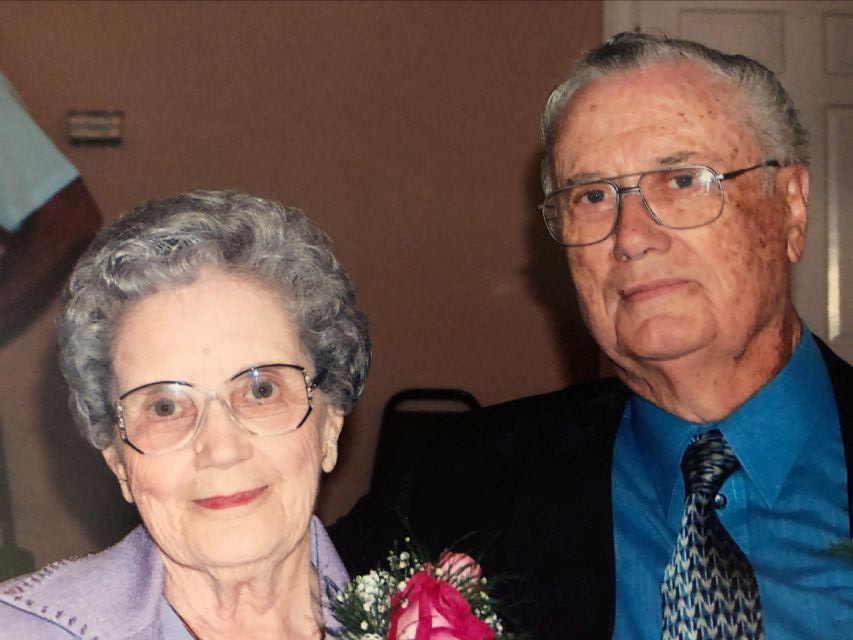 ---
About The People of Turner County Project:
This is an oral history project that works to both preserve, document, and celebrate the people of Turner County and the history through the stories of those who have experienced it.
This project collects oral histories of people who have lived or worked in Turner County, Georgia.
1